Scouts in Action
Every week over 7000 young people in Beaver Scout Colonies, Cub Scout Packs, Scout Troops, Explorer Units and Scout Networks across Berkshire have a fantastic time in Scouting. Everywhere there is adventure, fun and friendship. These pages provide a glimpse of that exciting activity. Enjoy!
If you would like to find out how to get involved, visit our Want to Join page. To submit your story, click here.
THREE TOWERS HIKE TRAINING DAY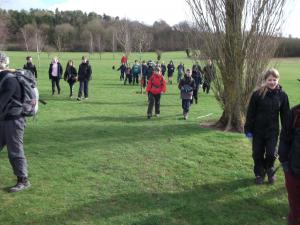 THREE TOWERS HIKE TRAINING DAY
Image contributed by: Alan Wathen
(click to enlarge)
On Sunday 5th March 48 members of Taceham and Kennet took on the the first 13 km of the Scout event . The group made up of Scouts/Leaders and a number of parent helpers and there dogs ,walked from Pangbourne to Warren farm in light rain but a lot of mud in a time of 3.5 hrs a pace of 4- 4.5 kmh. There is still place in all 4 of the hike events have a look at the web page use it for training for a longer event or just have a fitness day .
Contributed by: Alan Wathen