Scouts in Action
Every week over 7000 young people in Beaver Scout Colonies, Cub Scout Packs, Scout Troops, Explorer Units and Scout Networks across Berkshire have a fantastic time in Scouting. Everywhere there is adventure, fun and friendship. These pages provide a glimpse of that exciting activity. Enjoy!
If you would like to find out how to get involved, visit our Want to Join page. To submit your story, click here.
4th Newbury Cubs learn AED skills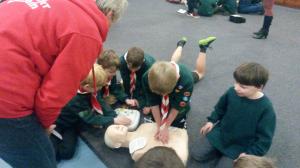 4th Newbury Cubs learn AED skills
Image contributed by: Gerard O\'Neill
(click to enlarge)
4th Newbury Cubs complete their British Heart foundation CPR certificate HeartStart from Thatcham have visited 4th Newbury cubs as part of their first aid badge work. Over the past weeks the cubs have been learning first aid including bandaging, how to stop bleeding, slings and lots of other exciting first aid details. Nick from HeartStart and his colleagues Mick and Margaret came along to teach the cubs all about resuscitation and the recovery position. The cubs enjoyed practicing CPR on the resussi Anne mannequins and they also learnt about the important role played by AEDs. AEDs can mean the difference between a 10% and an 80% survival rate in the event of a heart attack! Having completed their CPR training, the cubs have been awarded their British Heart Foundation Call Push Rescue certificates as well as their first aid badges. There are now 25 cubs who may be able to make all the difference in the event of a coronary incident.
Contributed by: Gerard O\'Neill