Scouts in Action
Every week over 7000 young people in Beaver Scout Colonies, Cub Scout Packs, Scout Troops, Explorer Units and Scout Networks across Berkshire have a fantastic time in Scouting. Everywhere there is adventure, fun and friendship. These pages provide a glimpse of that exciting activity. Enjoy!
If you would like to find out how to get involved, visit our Want to Join page. To submit your story, click here.
1st Reading YMCA Beavers go climbing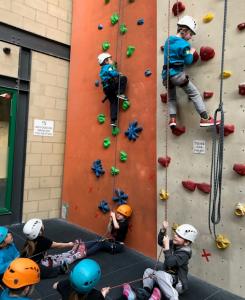 1st Reading YMCA Beavers go climbing
Image contributed by: Caroline Ware
(click to enlarge)
1st Reading YMCA Beavers enjoyed a wonderful evening at Reading Climbing Centre working towards gaining their Teamwork Challenge badge by holding the ropes for each other & working towards gaining their Adventure Challenge badge by trying out an adventurous activity. .
Contributed by: Caroline Ware