Scouts in Action
Every week over 7000 young people in Beaver Scout Colonies, Cub Scout Packs, Scout Troops, Explorer Units and Scout Networks across Berkshire have a fantastic time in Scouting. Everywhere there is adventure, fun and friendship. These pages provide a glimpse of that exciting activity. Enjoy!
If you would like to find out how to get involved, visit our Want to Join page. To submit your story, click here.
Derek Salter recognised for services to Scouting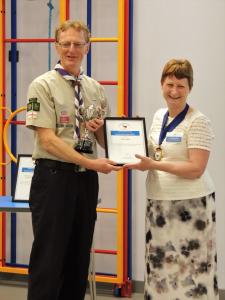 Derek Salter recognised for services to Scouting
Image contributed by: Derek Salter
(click to enlarge)
The Warfield Award 2017 At the Warfield Parish Council Assembly held on the 3rd May 2017, Derek Salter DDC for South East Berkshire was presented with a cup and certificate by the Chairman Councillor Colleen Healy for his contribution to Scouting which has benefited the Young People of Warfield and Surrounding area.
Contributed by: Derek Salter