Scouts in Action
Every week over 7000 young people in Beaver Scout Colonies, Cub Scout Packs, Scout Troops, Explorer Units and Scout Networks across Berkshire have a fantastic time in Scouting. Everywhere there is adventure, fun and friendship. These pages provide a glimpse of that exciting activity. Enjoy!
If you would like to find out how to get involved, visit our Want to Join page. To submit your story, click here.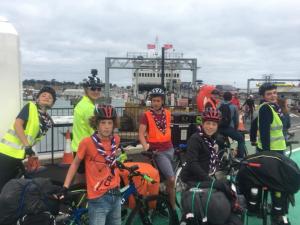 Image contributed by: Loz Marchant
(click to enlarge)
As many ready themselves for back to school this week, 6 adventurous Scouts from Kennet got out their bikes and made a 300km unassisted expedition to the Isle Of Wight. Tom (16) Henry (15) Conor (14) Adam (13) Tom (13) and Daniel (13) from 1st Newbury Scout group made the gruelling trip by peddle power to raise sponsorship for their trip to North America. Starting from their Scout HQ in Newbury on Saturday 25th August, and cycling for 3 days the team carried all of their own equipment and supplies. Hosed by local scouts on the Island also attending next summerís Jamboree they undertook a full circuit of the island before heading home on Monday 27th August. Next summer the Scouts will attend the World Scout Jamboree, attended by 40,000 Scouts from across the world. Selected alongside 30 others from Berkshire in their Unit, The cycle ride has helped them on their way to meet their £3000 target they must each raise by next year.
Contributed by: Loz Marchant